Veronica Maggio - Den Första Är Alltid Gratis
Article : Valerie Toumayan & Antoine Morin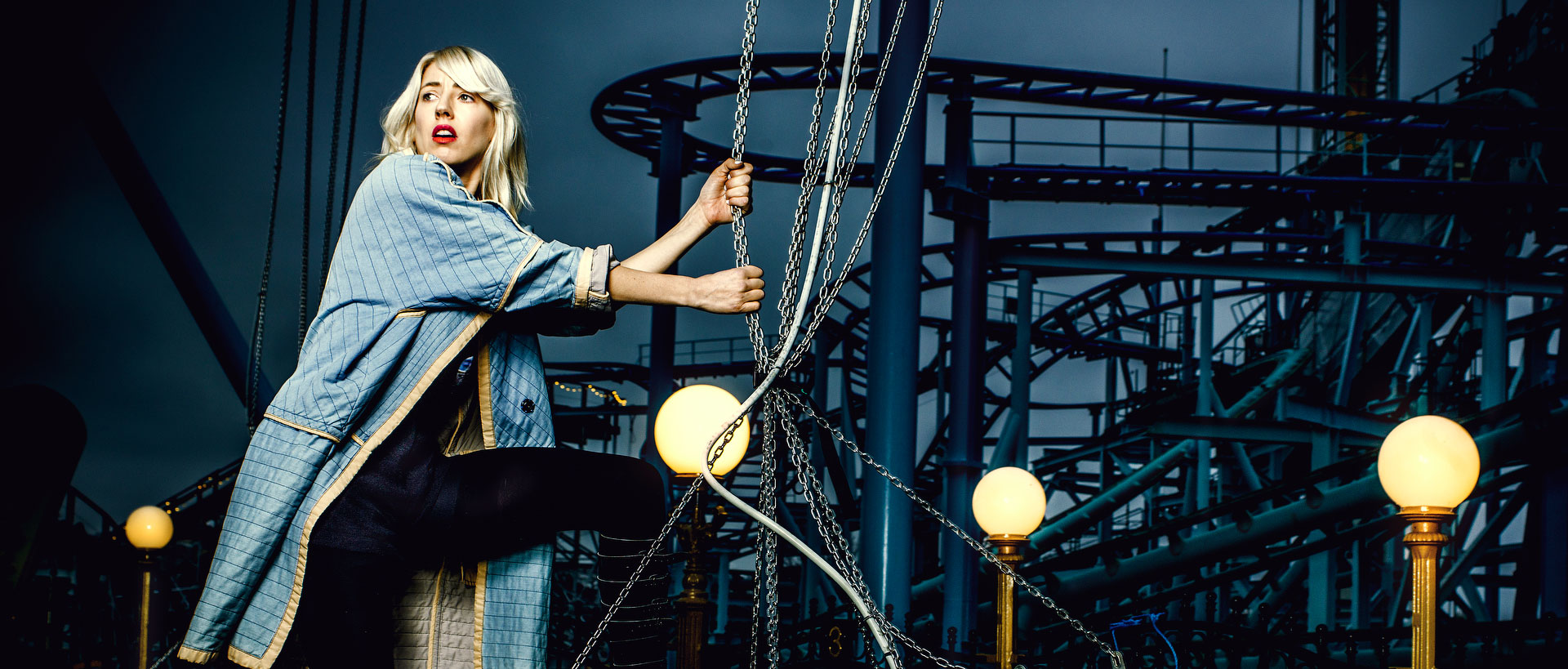 photo : Lindsten & Nilsson
Veronica Maggio has been I Love Sweden's favorite artist for a long time, and we are doing our best to promote her outside Sweden !
Born in the city of Uppsala from an Italian father and a Swedish mother, her highly successful career allowed her to reach the non-written title of Sweden's queen of pop. She has a total of five full-length albums since 2006, her fifth "
Den första är alltid gratis"
(
the first one is always free
) being released last May 6th, added to over
10 number one singles
,
5 Grammis
and
25 gold or platinum certifications
. This year 2016 will mark the tenth anniversary of Veronica Maggio as an artist!
Her previous album,
Handen i fickan fast jag bryr mig
(
Hands in pockets though I care
) was also generously rewarded throughout Scandinavia. Her popularity and success are mainly due to her capacity to compose big hitting pop songs with a unique writing style, as well as dark and often controversial lyrics. In her native language, she writes short stories about relationships, love, sorrow and her life in general, speaking a lot to the Swedish audience and making her
the voice of a generation
.
Her last two albums were acclaimed as true masterpieces by the critics and the fans, and the songs coming from these are still very often played on Swedish radio stations. For this new record, Veronica surrounded herself with many other Swedish artists such as
Salem Al Fakir
and
Magus Lidehäll
, who are in her entourage since a certain time, as well as
Klas Gullbrand
,
Niki and the Dove
,
Colleague
and
Vincent Pontare
among others. Maggio describes this new album as more personal and featuring a new energy more powerful than ever, and at the same time more sincere.
To celebrate her 10 years carreer, Veronica will make an exclusive gig at the
Stockholm Olympic Stadium
in
August 13th
, for an audience of
25 000 people
!

An awaited comeback :
On March 17th, Veronica came back presenting her new single
Den Första Är Alltid Gratis
(
the first one is always free
) which will also be the title of the new album. The song is a mix of synthesizers and guitars along with a melancholic melody. We find Veronica expressing her feelings and troubles also with a beautiful music video full of emotions.


Hit Song : Vi Mot Världen
Second song on the album, Vi mot världen (We against the world) stands out and features a very catchy guitar riff and a melody that gets stuck in your head after a single listening. It is the second single that was published from the album and it is promising a great success.



Stong Link : Ayahuasca
One of the most mentioned songs by the critics and there is a reason for that, co-writen with the band Colleague, Ayahuasca is a strong song with a catchy chorus and melody. Arriving mid-way through the album, it's at this very moment that the album truly starts to stand out and becomes even more excellent.

Weakest Link : Pang Pang
Like it is often the case, it was a bit difficult to elect the weakest song, but the verdict finally fell on Pang Pang (Bam bam). This decision is maybe only due to the fact that this tune simply does not get into my head and seems a bit less catchy than the rest (and also shorter), without neglecting its quality though.

Personal Favorite : Svart Sommar
A song with a very 80s-like sound and a chorus worthy of Veronica Maggio. Ending with a powerful afteråt (afterward), the chorus sounds like it is filled with emotions. Translated to English, the chorus would look like "We may only have one summer / We might just have a black summer / It overwhelms us like a ten-meter wave / We will remember everything in color / Afterward."
Svart sommar (black summer) is therefore a product of Maggio's classic receipe, 2016 edition!

General Notes :

Originality/Uniqueness: 8/10
The art of Maggio seems inexhaustible, and even if the inspirations remain similar and the sound generally mainstream, the artist never ceases to innovate and push the barriers. She is a star that sincerely deserves all of her success.

Depth : 8/10
13 songs that almost have all a length of about four minutes. To me, that is a synonym of depth, especially when each of these songs has its little something that makes a difference facing the previous one. A shovelful of potential hits!

Vibe : 7/10
I do not totally feel a particular evolution to this album, but it remains very good because the tracks follow each other wonderfully and all have related elements. It is a great album to listen, no matter the situation.

Radio Factor : 9/10
The whole album has so many songs that get stuck inside your head without even knowing why ! I would be able to give you at least five songs from the 13 that have strong chances of at least reaching top 20 of Sverigetopplistan in the next few weeks. In fact, in this very moment while writing these lines, Vi mot världen holds the 10th place, Ayahuasca the 35th spot and Den första är alltid gratis the 40th. That surely is promising!

Global Appreciation : 8/10
Veronica Maggio does not disappoint and continues her steady rise to stardom. The album Den första är alltid gratis is another guaranteed success for the artist that we will now be waiting to see touring the Baltic countries, and hopefully in France too!